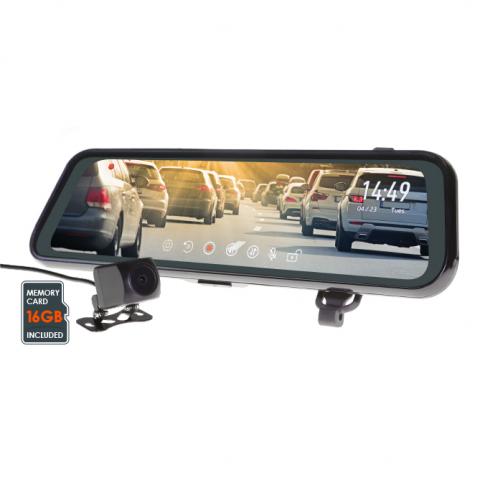 9.35" MIRROR MONITOR WITH FULL HD 1080P FRONT & HD 720P REAR DUAL DASH CAM WITH REVERSE CAMERA FUNCTION
This product has been discontinued. Dealers may still have stock.
Features:
9.35" high resolution super wide LCD touch screen mirror monitor with rubber clip-on mirror mount for simple and secure installation, suitable for all vehicles with a rear-view mirror
Dual channel recording with Full 1080p high definition front dash cam and HD 720p high definition rear dash cam, provides clear crisp videos at the front and rear of the vehicle
120-degree wide angle front and 95-degree rear camera lens reduces blind spots
Automatic reverse trigger displays reverse image and parking gridlines when reverse gear is engaged to assist with reverse parking
Live streaming function enables the monitor to display rear vision while driving, ideal for vehicles with limited rear vision
Built in G-Sensor detects an impact and securely saves the video footage on the micro SD Card separate from the continuous loop files
Seamless cycle loop recording function continuously records in an indefinite loop without stopping, constantly overwriting the oldest file with the newest video
Includes 16GB Micro SD Card and supports Micro SD Card class 10 up to 128GB (sold separately)
Includes a 5.4m rear camera cable with trigger wire to connect the rear cam to the monitor
GRV90EXT 3m extension cable also available if extra length is required for installation in longer vehicles such as; utes, trucks and vans (sold separately)
Also includes USB lead, mounting screws, 3M adhesive, mirror protector pads and rubber mounting clips
Description:
Reverse, live streaming and dual channel dash cam recording capabilities, the Gator GRV95MKT provides the ultimate surveillance and protection for your vehicle.
Featuring a super wide 9.35" high resolution touch display the mirror monitor simply clips over the existing rear view mirror in the vehicle for convenient unobtrusive viewing.
With 2 channel recording you can be confident to capture an incident at all times. The front camera is built into the mirror monitor and records Full HD 1080P with a 120 degree field of view, while the rear camera can be mounted at the rear of the vehicle and records HD 720P videos with a 95 degree field of view. GRV95MKT also has a built in G-Sensor to detect sudden impacts and loop records, it includes a 16GB Micro SD Card in the box and can be expanded up to 128GB if more memory is required. It will capture any incidents or events that may occur at the front and rear of the vehicle.
While driving, the mirror monitor will simply appear as a standard reflective mirror and also has the ability to live stream, displaying what is behind the vehicle in real time, which is ideal for Trucks, Utes, Vans and Motorhomes which may have limited rear vision. When reverse gear is selected, the monitor will automatically switch to the reverse camera and display parking gridlines to provide guidance when reversing.
The kit simply plugs into the vehicle accessory socket for power with the included 3.4m power cable and if the rear camera is connected to a reverse trigger it will display parking gridlines when the vehicle is in reverse.
Specs:
MONITOR SPECIFICATIONS
MONITOR SIZE: 9.35"
MOUNTING TYPE: CLIP ON REAR VIEW MIRROR
INPUT VOLTAGE: 5V (12/24V ACCESSORY POWER ADAPTER INCLUDED)
VIDEO INPUTS: 1
CONNECTION TYPE: 2.5MM JACK
DIMENSIONS: 72mm(H) X 260m...read more

[2]