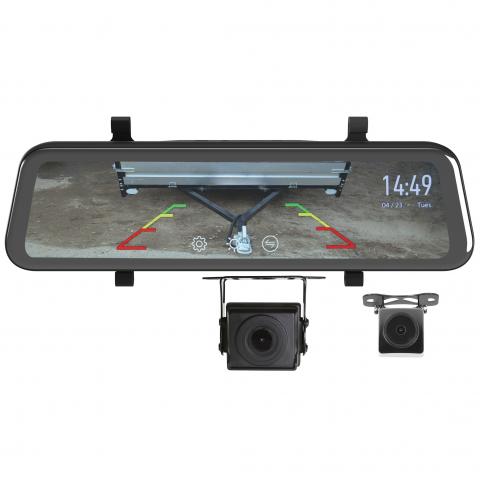 9" TOUCH SCREEN HD MIRROR DISPLAY 1080P HD DUAL CAMERA KIT
Features:
9" Touch Screen HD Display, for streaming and reversing
Dual Camera Inputs, includes 2 cameras that can be mounted virtually anywhere on the vehicle or even on a trailer
1080P HD Resolution, produces clear footage from both cameras to capture critical details
Wide Angle Lens, 110 degree camera angles minimise blind spots around the vehicle
Both cameras can be used as either front or rear view as the image can be flipped on the display
Streaming Mode, view the rear camera at any time or a clear unobstructed view
Reversing Mode, the heavy duty camera switches to reverse mode when reverse gear is engaged
Surface Mount Cameras, designed to mount in various locations at the front or rear of the vehicle
Parking Guidelines, display on the heavy duty camera when the reverse trigger cable is connected and reverse gear is engaged
Clip-On Mirror Mount, installs easily on the rear-view mirror in virtually any vehicle
5.4M Camera Cable, for the small surface mount camera enabling installation at the front or rear of the vehicle
2 x 10M Camera Cables, for the heavy duty surface mount camera enabling installation anywhere on the vehicle or on a trailer
Wired System, eliminates interference between the monitor and cameras for clear vision
Optional Gator GTK1 recommended to be used when installing the heavy duty camera on a trailer or caravan (sold separately)
GUNIHWC Hard Wire Kit available for connection via vehicle fuse box instead of using the included accessory socket power adaptor (sold separately)
The Heavy Duty Camera is compatible with the GATOR Prolink Extension cables, the lead can be extended to a total distance of 40M between the Monitor and Camera
Description:
The GRV92MKT features a large 9" high definition touch screen display that simply clips over the existing rear view mirror in the vehicle. The mirror has dual camera inputs and comes supplied with two 1080P HD cameras. One camera comes with a 5.4M video extension cable, while the other camera comes with 2 x 10m video extension cables. Both cameras can be displayed on the mirror while driving and to change between cameras you can simply slide your fingers across the display. The heavy duty camera also has a reverse trigger cable, when connected to the vehicle it will display parking gridlines while in reverse. The kit includes an accessory plug power cable for easy installation and only a small amount of wiring is required to active the reverse camera feature.
Note:

If you are planning to install the heavy duty camera in this kit on a trailer or caravan, we recommend using the Gator GTK1 4 PIN PROLINK Trailer Connection Kit (sold separately).
---
VIDEOS
FEATURE VIDEO [2]
HOW TO USE VIDEO [3]
Specs:
MONITOR SPECIFICATIONS
MONITOR SIZE: 9.35"
MOUNTING TYPE: CLIP ON REAR VIEW MIRROR
INPUT VOLTAGE: 5V (12/24V ACCESSORY POWER ADAPTER INCLUDED)
VIDEO INPUTS: 2
VIDEO CONNECTION TYPE: 2.5MM JACK
DIMENSIONS: 72mm(H) ...read more

[4]