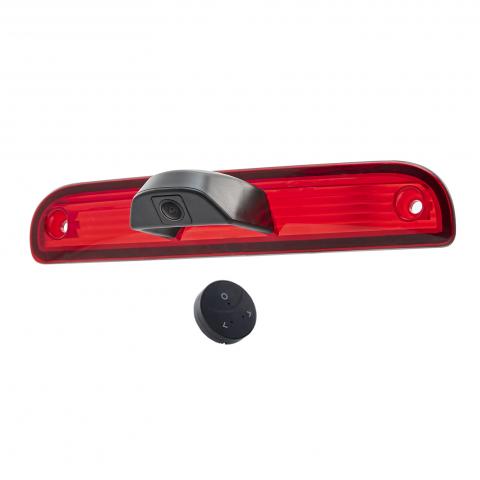 VEHICLE SPECIFIC BRAKE LIGHT 5-IN-1 CAMERA WITH WIRELESS CONTROLLER TO SUIT FIAT DUCATO
Features:
Five switchable viewing modes to provide the best angle for any situation
Select 150 degree, 180 degree or birds-eye mode for clear vision whilst reversing
Get a clear view of your blind spots whilst changing lanes
Have the camera mimic a rear-view mirror during normal driving for the best view of the road
Wireless controller for camera settings and viewing angles can be conveniently mounted on the vehicle dashboard for ease of access for the driver
Flush mount design with brake light housing for discreet installation
Suitable for Fiat Ducato commercial vans, camera replaces factory brake light positioned at the top rear of the vehicle
Optional dynamic guidelines when in reverse mode predicts the path the vehicle will travel
IP67 Rated, will withstand harsh operating environments and weather conditions
15M video extension cable included with mini din connectors
Compatible with all aftermarket display monitors and AV headunits that are NTSC compatible and feature an RCA input
Description:
The G162V 5-IN-1 camera solution allows you to see behind the vehicle with five switchable viewing angles including: birds-eye, wide angle, reverse, left/right blind spot and driving modes. With the aid of the wireless controller you are able to easily switch and modify various settings, as well as change the viewing modes from the comfort of the driver's seat. Designed specifically for Fiat Ducato commercial vans, the camera simply replaces the OEM brake light on the vehicle, allowing for optimal position at the top rear of the vehicle.
Specs:
RESOLUTION: 720 x 480
MOUNT TYPE: BRAKE LIGHT MOUNT
REVERSE OR REAR VIEW: REVERSE
LENS ANGLE: 210 DEGREES (H) x 140 DEGREES (V)
IMAGE SENSOR (CMOS or CCD): CMOS
PARKING GRIDLINES: SWITCHABLE / DYNAMIC
PAL or NTSC: NTSC
IP RATING...read more

[3]