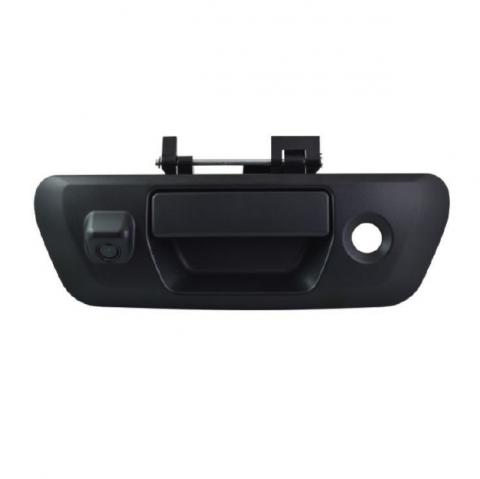 VEHICLE SPECIFIC REVERSE CAMERA TO SUIT NISSAN NAVARA NP300 (BLACK)
Features:
Designed to replace the factory tailgate handle providing a discreet and professional rear camera solution
No additional holes need to be drilled into the vehicle and keeps the original tailgate lock
High quality image sensor produces clear images and enhanced low light performance
150 Degree field of view minimises blind spots at the rear of the vehicle
IP68 Rating and wide operating temperature range makes it suitable for use in the harsh Australian conditions
Parking guidelines to assist with reverse parking (guidelines to be removed at time if installation)
Mirror image option allows camera to be utilised as a reverse camera or rear view camera (must be set at time if installation)
8m extension cable length to run between the front and back of the vehicle
PAL/NTSC compatible with RCA connection makes it suitable for use with all aftermarket display monitors
Description:
The Aerpro G157V is a black vehicle specific reverse camera built for your Nissan Navara NP300 Ute. The tailgate handle replacement design provides a discreet installation solution without the need to drill any additional holes into the vehicle. The camera housing has a provision for the original tailgate lock so you can keep the factory lock and there is no need for extra keys.
The G157V camera has a wide 150 degree field of view that minimises blind spots and provides a clear view at the rear of the vehicle. The camera is designed specifically for reversing or rear-view, featuring mirror image option and parking guidelines to assist the driver while reversing (these can be changed/removed during installation). The camera is built tough and will withstand the harsh environment thanks to its IP68 rating and its operating temperature range of -20 degree to 70 degrees Celsius.
The Aerpro G157V is the perfect reverse camera solution for Nissan Navara NP300 models.
Specs:
VEHICLE COMPATIBILITY: NISSAN NAVARA NP300 2015-ON
CAMERA TYPE: REVERSE / REAR-VIEW
HOUSING COLOUR: BLACK
LENS ANGLE: 150°
PAL/NTSC: BOTH
PARKING GUIDELINES: SWITCHABLE
MIRROR IMAGE: SWITCHABLE
MONITOR CONNECTION TYPE: RCA
...read more

[2]