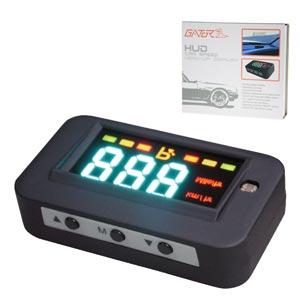 VSS HEADS UP DISPLAY (HUD)
Features:
Displays vehicle speed on the windscreen for easy viewing, allowing the driver to keep their eyes on the road
Suitable for VSS vehicles, requires installation connection to vehicle VSS wire
Large green digital display for easy viewing
Equipped with auto brightness control for use day or night
Description:
Gator HUDVSS1 Heads Up Display is designed to sit on the dashboard and project speed onto the vehicle's windscreen. This allows you to stay focused on driving, instead of trying to glance down at the factory speedometer when checking current vehicle speed. HUDVSS1 is suitable for vehicles that have a VSS (Vehicle Speed Sensor) wire and also features speed warning, auto brightness control and adjustable speed setting for accurate matching to your vehicle.
Specs:
DATA INPUT: VSS
SPEED UNIT: KILOMETERS/MILES (Switchable)
AUTO BRIGHTNESS DISPLAY: YES
DISPLAY COLOUR: GREEN
SPEED ADJUSTABLE: YES
DIMENSIONS: 48mm(H) x 75mm(W) x 20mm(L)