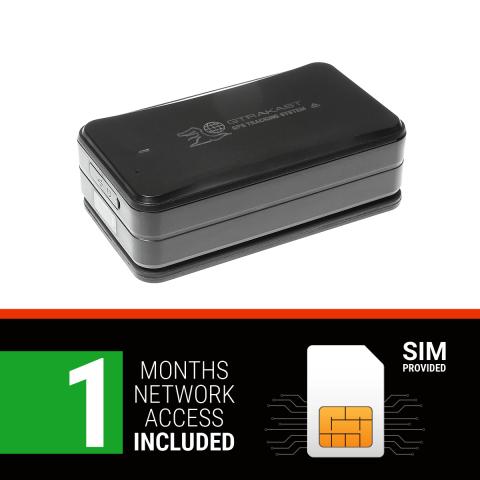 ASSET GPS TRACKING SYSTEM WITH 1 MONTH TRACKING SERVICE
Features:
Package includes GTRAKAST Asset GPS Tracking Module and Sim Card with 1 month tracking service
Operates on the Telstra M2M Network providing extensive coverage throughout Australia
Asset Tracking System suitable for use in non-powered and powered assets such as construction equipment, roadwork equipment, caravans, trailers, boats etc
Track unlimited vehicles or assets from a single log in (when subscribed)
Review up to 14 months tracking history (when subscribed)
3.7V 10,000mAH lithium ion battery lasts up to 2 years depending on use
Micro USB recharge port
Advanced Power Management Tracking Options to conserve battery power
Built in magnets allow the tracker to be attached securely to any metal surface and the included strong 3M adhesive enables installation on non-metallic surfaces
Tamper and cover removal detection sends an alert to the user if the module is being tampered with or moved
If the tracker senses multiple vibrations it will notify the owner of the potential threats
IP65 Dust and Waterproof to ensure stable operation in harsh environments
Web Based tracking portal that can be accessed via computer, tablet or smartphone
Australian based server for reliable and secure tracking Australia wide
Description:
The GTRAKAS1 is a great value package that includes the GATOR GTRAKAST GPS Tracking Device Sim card with 1 month included data and network access.
Avoid unnecessary installation costs and protect your assets with our portable battery powered GTRAKAST GPS Tracker. The GTRAKAST is an IP65 rated, rugged 3G GPS device designed for tracking non-powered assets such as construction equipment, trailers, caravans and more, where super-long battery life is required without sacrificing the frequency of updates and accuracy performance. The strong magnetic mounting base provides flexible installation on vehicles or assets and also has 3M adhesive tape for mounting on non-metallic surfaces. The large 10,000mAh Li-Ion battery will last up to 2 years depending on use and can be conveniently recharged via micro USB. The module also has a tamper alert alarm and vibration sensor which will alert the user if the module or asset is moved. Minimise asset and equipment loss with real-time GPS location updates and track and manage your assets anywhere, at any time, through the Gator Tracking web portal on your computer, tablet or smartphone.
The kit comes supplied with 1 month tracking service. Subscription is required in order to continue using the GPS Tracking System when this period expires. You can subscribe anytime during the free period and the outstanding credit will be deducted from the annual subscription charge. This charge includes Sim Card Data and Tracking Portal Access.
Specs:
PACKAGE INCLUSIONS:

1 x GTRAKAST ASSET GPS TRACKING MODULE
1 x GTRAKSIM SIM CARD WITH 1 MONTH INCLUDED TRACKING SERVICE ACCESS

SIM NETWORKS: SIM OPERATES ON TELSTRA M2M NETWORK
OPERATING FREQUENCIES: QUADBAND WCDMA 850/900/1900/2100 MHz
...read more

[2]