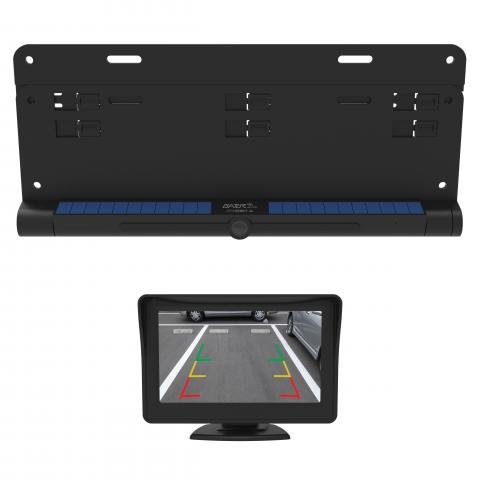 4.3" DISPLAY WIRELESS SOLAR POWERED REVERSE CAMERA KIT
Features:
Simple DIY plug and play installation
Wireless transmission up to a 17.5 metre range
4.3" LCD colour monitor provides clear vision from the reverse camera
Dash, vent and windscreen display mounts included for easy positioning
Number plate mount camera is suitable for installation on all standard & slimline Australian number plates
2100mAh Rechargeable back-up camera battery for night time driving
Integrated solar panels to charge the camera battery in sunlight
Charge port on camera so it can also be recharged via a USB charger
Super wide 135 degree lens angle minimises blind spots at the rear of the vehicle
Parking Guidelines assist with reverse parking
IP67 Rated camera will withstand the harsh conditions on the exterior of the vehicle
The display powers on and off automatically with the vehicle ignition or manual button and times out after 45 seconds
Description:
The Gator GRV43SKT 4.3" Display Wireless Solar Powered Reverse Camera Kit provides a clear view at the rear of the vehicle so you can back up safely. Featuring a true wireless reverse camera there is no need to run cables through the vehicle, making this reverse camera kit quick and easy to install. The 4.3" LCD colour display securely mounts to the dash, air vent or windscreen in the vehicle and plugs into the vehicle accessory socket for power. The rear camera mounts to any standard or slimline Australian number plate and has integrated solar panels and a rechargeable battery so it does not need to be wired to the vehicle. The display powers on and off automatically with the vehicle ignition and can be turned on manually with a push of a button, after 45 seconds it will automatically turn off. Other features include a 135 degree wide angle lens, reverse parking lines and an IP67 waterproof rated camera. The wireless range is 17.5m maximum and the kit is 12-24VDC compatible, making it suitable for cars, utes, vans, 4WDs and trucks.
Specs:
Monitor Specifications
Display: 4.3" High-resolution LCD Screen
Resolution: 480 x 272 Pixels
Parking Guide Lines: Yes
Power Cable: 12-30V Input Voltage, 3.5M Length, 3A Fuse
Operation Current: <150mA
Dimensions...read more

[2]