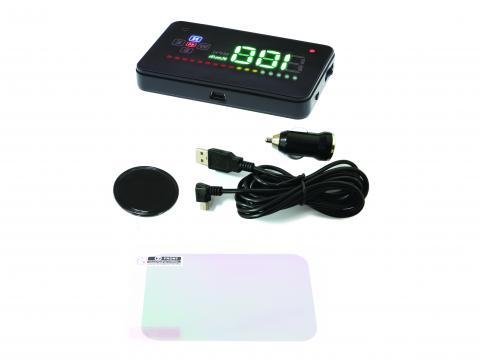 GPS HEADS UP DISPLAY (HUD)
Features:
Displays vehicle speed and travelling direction on the windscreen of the vehicle
Uses GPS to determine vehicle speed and travelling direction which is displayed on a compass
Auto or manual brightness adjustment-capable with 3.5" multi-color LED display for easy viewing day or night
Easy installation simply plugs into the vehicles accessory socket for power, professional installation not required
Outward illuminant with reflective film makes it easy to see day or night and doesn't distract other road users
Overspeed warning when enabled alerts drivers if the vehicle goes over the pre-set speed limit
Speed deviation setting for small adjustment to display speed to match the vehicle speedometer
Adjustable speed display in KM/H or MPH can be used in Australia or overseas
Removable sticky non-slip mat to ensure HUD mounts securely on vehicle dashboard
Description:
Gator GHUDGPS Heads Up Display is designed to sit on the vehicle's dashboard to reflect its speed onto the windscreen. This enables you to keep your eyes on the road, instead of trying to glance down at the factory speedometer every once in a while. GHUDGPS is suitable for most types of vehicles, as it uses GPS to obtain and monitor the vehicle's speed. It also features a compass, auto or manual brightness control and adjustable over-speed warning. GHUDGPS comes with a 12/24V single USB socket charger, 2.5-metre USB/Mini charge cable, a reusable sticky pad mat for the dashboard and a reflective windshield film.
Specs:
DATA INPUT: GPS SATELLITE
DISPLAY SIZE: 3.5" COLOUR LED
OPERATING VOLTAGE: COMPATIBLE WITH 12/24V VEHICLES
DIMENSIONS: 90mm (H) x 54mm (W) x 12mm (L)
CABLE LENGTH: 2.5m
CABLE TYPE: MINI USB
SATELLITE POSITIONING TIME: UP TO 30 SECONDS